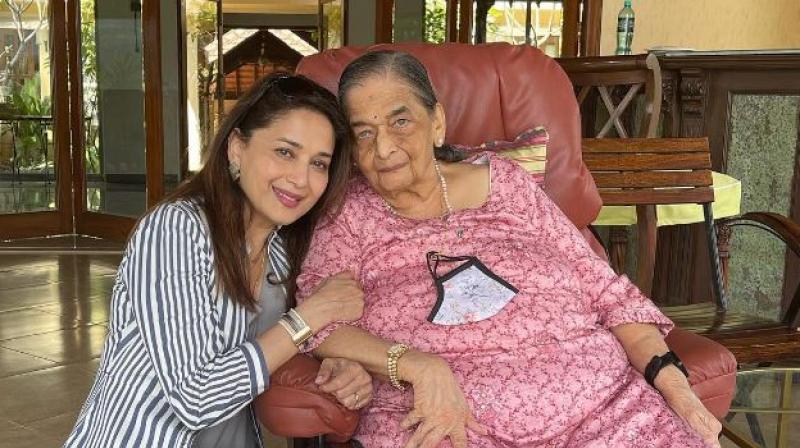 Madhuri Dixit With her Mother Snehlata Dixit
Madhuri Dixit's husband Shriram Nene also paid tribute to his Mother-In-Law
MUMBAI: Losing a mother is one of the deepest sorrows a heart can know. Famous Bollywood actress Madhuri Dixit is feeling the same pain right now as her mother, Snehlata Dixit passed away at the age of 91 years at their residence in Mumbai.
A Day after the demise, actor Madhuri Dixit Nene remembered her mother and penned an emotional note on Instagram. 
Taking to Instagram, Madhuri Dixit dropped a photo and wrote, "Woke up this morning to find Aai's room empty. It feels surreal.She taught us to embrace and celebrate life.She gave so much to so many people. We will miss her dearly but she will live on in our memories. Her wit, positivity and grace were infectious. We will celebrate her life together through our memories. Om shanti om."
In the picture, Madhuri was seen holding her mother closely, and they both posed happily for the camera. 
Notably, Madhuri Dixit's husband Shriram Nene also paid tribute to his mother-in-law and shared a photo on Instagram. He wrote, "Our beloved Aai, Snehalata Dikshit, passed away peacefully this morning surrounded by her loved ones. Am emotionally and physically drained. But the love of my family, friends and all of you have made this bearable. She was a saint: full of life, wisdom, patience, and a sense of humour that pierced all barriers. She will be missed, but never forgotten. Her memories will keep her alive forever for all of us."
Snehlata dixit breathed her last at the age of 91 at Mumbai residence on March 12. Her funeral was held at Worli crematorium in the presence of the whole family and loved ones. The cause of death is still unknown.