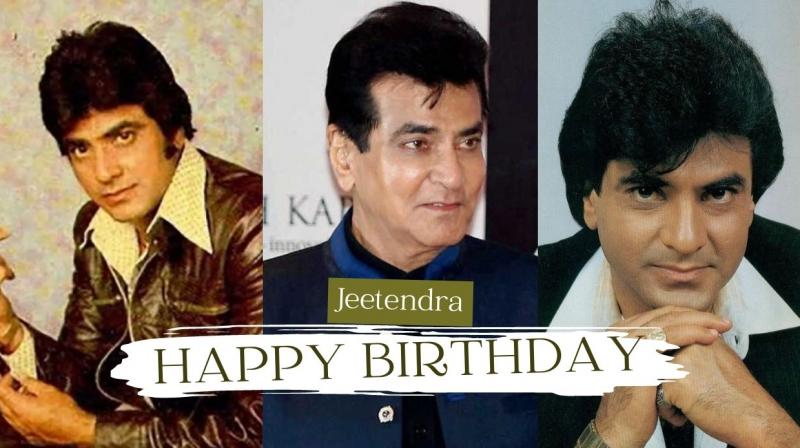 Happy Birthday Jeetendra 
Jeetendra has spread his Charm in more than 200 Movies
MUMBAI: Bollywood Actor Jeetendra, known as The Jumping Jack in Hindi cinema, has turned 81 years old today. Jeetendra was born in Amritsar district to father Amarnath. Jeetendra's father ran a fake jewelery business in Amritsar. His early 20s were spent in the suburbs of Goregaon, Mumbai, but a coincidence changed his life completely and he became a hero. 
Jeetendra entered into films in 1964 with V Shantaram's romantic musical 'Geet Gaya Patharon Ne'. Year 1967 is considered the turning point of his career when Jeetendra worked with Babita Kapoor in Ravikant Nagaich's film 'Farz'. Farz movie song 'Mast Baharon Ka Main Aashiq' became a huge hit and the clothes and shoes they wore became a trend. After this, Jitendra, who continuously gave hit films, started to be counted among the top heroes in the bollywood industry. In a career spanning more than 50 years, Jeetendra has spread his charm in more than 200 movies. 
Legend Jeetendra gave several blockbuster movies, tracks, dialogues and an illustrious career of more than 50 years to the country. He was fondly known as Jeetu ji. His badminton style sporty dancing in the hit song 'Dhal Gaya Din' is much loved by the fans. On the special occasion of 81st birthday, let's have a look at Jeetu ji's top 10 movies.....
- Farz (1967): The Movie featured Jeetendra alongside Babita Kapoor and Aruna Irani.
- Jigri Dost (1969): It featured Nirupa Roy, Aruna Irani, Jagdeep, Poonam Sinha and Mumtaz. This movie is a Hindi remake of the Kannada film Emme Thammanna. 
- Jeene Ki Raah (1969): Directed by LV Prasad, Jeene Ki Raah featured Jeetendra, Tanuja and Anjali Kadam.
- Parichay (1972): Parichay was directed by Gulzar. It stars Jaya Bachchan opposite Jeetendra.
- The Burning Train (1980): The Action thriller movie featured Jeetendra, Hema Malini, Dharmendra, Danny Denzongpa, Vinod Khanna, Simi Garewal, Parveen Babi, Neetu Singh, Naveen Nischol and Vinod Mehra.