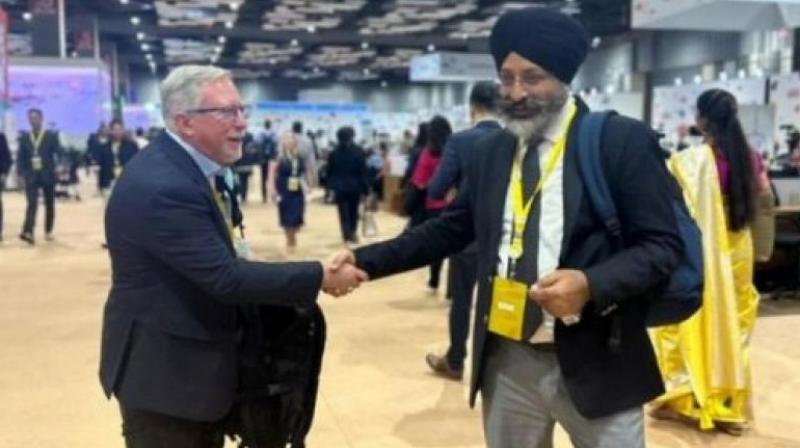 Ukrainian Journalist Extended Gratitude to his Sikh counterpart
United Sikhs, a UN-affiliated Nonprofit, leads in providing essential aid & assistance during the Ukrainian conflict
CHANDIGARH: Amid the prolonged strife in Ukraine, the compassionate and selfless actions of Sikhs have stood as a beacon of hope for many affected Ukrainians. Journalist Ravinder Singh Robin recently highlighted their humanitarian efforts on LinkedIn, recounting the gratitude expressed by a senior Ukrainian journalist at the G20 summit for the invaluable humanitarian aid provided by Sikhs during the war.
Sikhs, renowned globally for their ethos of compassion, have been tirelessly providing essential assistance such as food, shelter, and medical care to those afflicted by the dire consequences of war.
Leading the charge in these humanitarian endeavors is United Sikhs, an international nonprofit affiliated with the United Nations. With a profound commitment to alleviating the suffering of the Ukrainian people, United Sikhs has established relief camps along the Polish-Ukrainian border, dispatching teams ceaselessly to distribute emergency aid to those in need.
In addition to relief camps, United Sikhs has set up bomb shelters within war zones and imparted critical tactical medicine training to civilians, arming them with life-saving skills in the face of danger. Reflecting on the appreciation expressed by Ukrainian journalist John McGovern at the G-20 summit, United Sikhs emphasized that such stories underscore "the commitment of Sikhs to selfless service." The organization remains steadfast in its ongoing relief efforts in Ukraine and gratefully acknowledges the support received from the international community.
Notably, Balwant Singh, the director of United Sikhs stated that their main goal is to "provide immediate relief to the needy and help them rebuild their lives." He emphasized the organization's unwavering commitment to extending a helping hand to the people, showcasing their extensive history of humanitarian assistance to individuals in need. Balwant Singh expressed deep pride in the organization's ability to support the people of Ukraine during this challenging time.