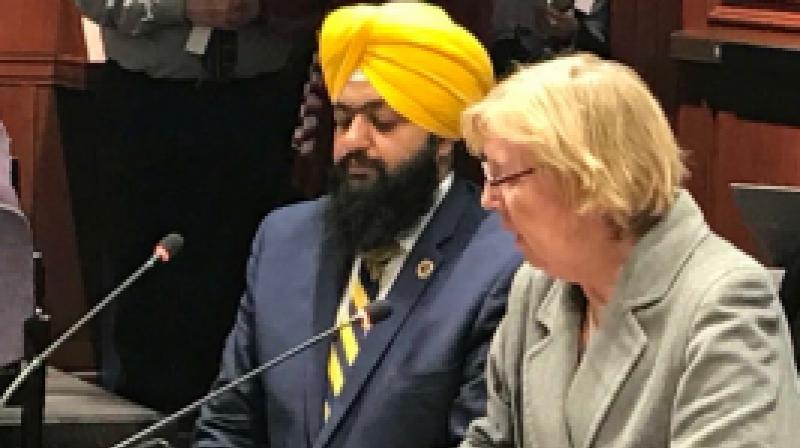 Swaranjit Singh Khalsa with Senator Cathy Osten During Public Hearing
Bill Passed to Declare "November 1st" every year as "Sikh Genocide Remembrance Day" in Connecticut General Assembly...
Bill 489 Section New 86 has been proposed by Connecticut State Senator Cathy Osten and Representative Kevin Ryan to Declare Nov 1st as "Sikh Genocide Remembrance Day" in memory of all the victims who were killed by Indian Govt. in 1984 all over India. This is an evergreen bill and every year Governor will declare this day at offical level in Capital Of Connecticut. Public Hearing was Held in Connecticut State Capitol to endorse this bill in which Sikh Community Representative all over East Coast participated and submitted their testimonies and shared their experiences with Committee.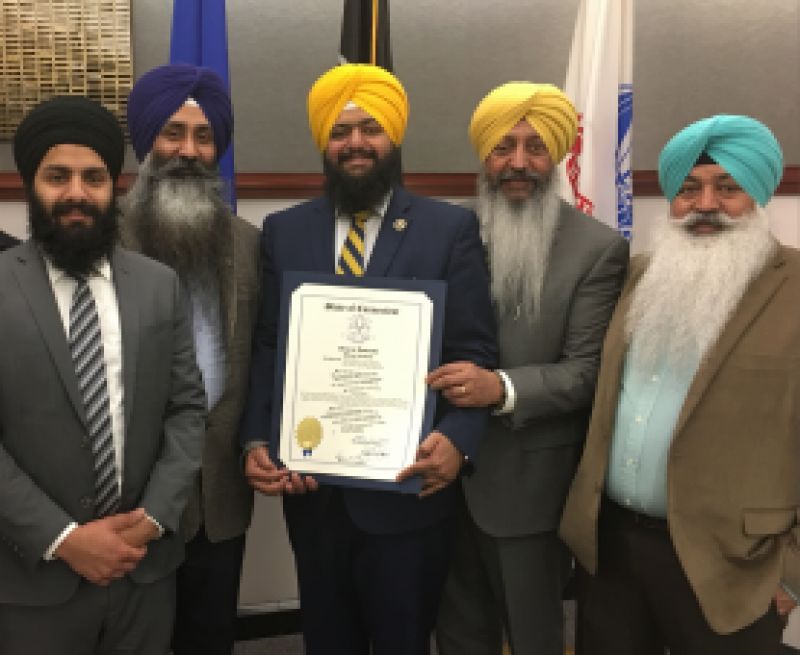 Himmat Singh,Guruninder Singh Dhaliwal,Avtar Singh Pannu,Gurdiyal Singh,Harpreet Singh Rana with Swaranjit Singh Khalsa introducing the Bill in Senate
Swaranjit Singh Khalsa who is Member Of Norwich Commission of City Plan,Member World Sikh Parliament and also Spokesman for Sikh Coordination Committee East Coast was invited by Senator and give testimony in front of Audience and official Committee. Khalsa said " This is black spot on history of world as elected officials who take oath to protect citizens of country were the one who ordered and funded this genocide".
Khalsa also said "Sikh Community has been living in United States for more than 100 years and it has been more than 40 years they are living in Connecticut and we have large population who was affected by this genocide so it's our duty to ease up their pain by standing on their side". "Also by this bill Sikh Community will get exposure which they need so people get to know that sikhs are from Punjab,Sikhism is distinct religion and why demand of separate Sikh state Khalistan is justifiable".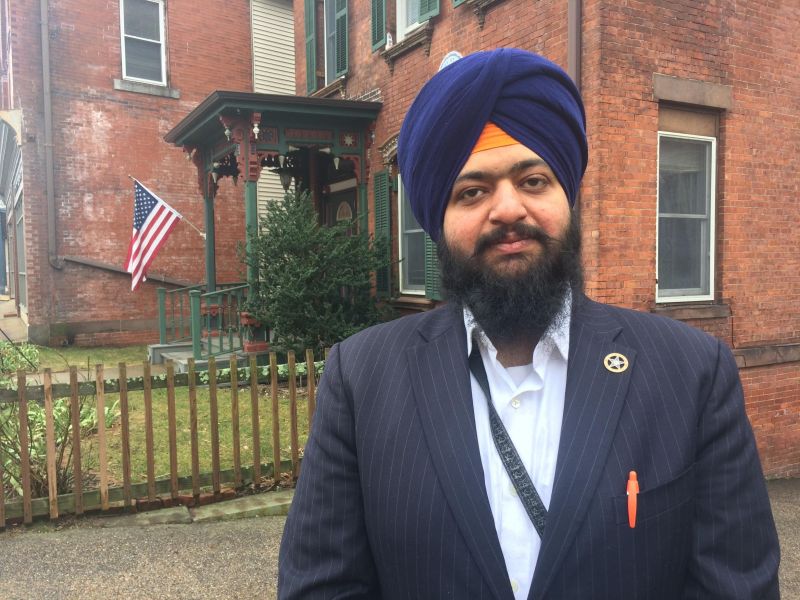 Swaranjit Singh Khalsa
Committee asked few questions but were satisfied by the response of Mr.Khalsa. State senator district 19th Cathy Osten also added that Sikh Community is very active in Connecticut politically as well and members of sikh Community is also serving US Army and Military. In order to bring justice we should recognize this day. On this occasion Himmat Singh Member World Sikh Parliament & Coordinator Sikh Coordination Committee East Coast,Guruninder Singh Dhaliwal was also present and gave their views on declaring this day as Sikh Genocide Remembrance Day.
This bill has not became Law in Connecticut as it was first passed by committee then by House and Senate with majority and now finally it was Signed by Governor in June 2018. The main point that need to be noted is that this kind of bill was first floated and passed in Ontario,Canada with efforts of Sikh Member Parliaments Of Ontario and now same thing was done by politically active Sikhs in America. Press Conference was held in NewYork by Members of World Sikh Parliament to tell media about this achievement.

Members of World Sikh Parliament are now working on taking this bill to National
This is a Historical bill and showed Sikhs getting support in America politically. Members of World Sikh Parliament are now working on taking this bill to National level said "Swaranjit Singh Khalsa". Himmat Singh NewYork said Work of World Sikh Parliament was started on orders of Akal Takhat Jathedar Jagtar Singh Hawara and members of Parliament agrees with Ideology of Jathedar Hawara and will work on Sikh political ambitions and we will continue their work towards the formation of Sikh Homeland.