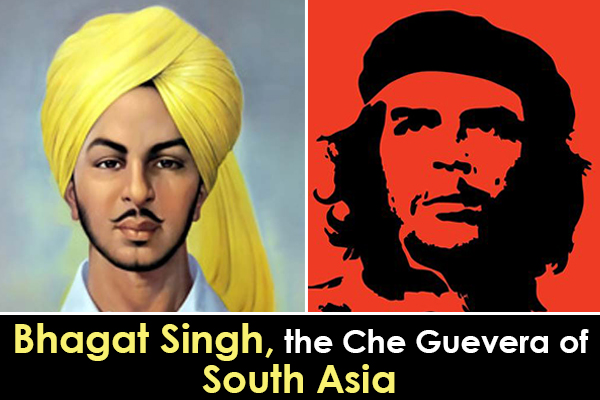 The entire county has been celebrating the birth anniversary of the great martyr Bhagat Singh who sacrificed for the freedom of mother India. He was just 23 when he attained martyrdom and fought bravely against the British imperialism.

A retired professor of JNU, Prof. Chaman Lal who worked a lot on the life history of Bhagat Singh compared him with the Latin American Marxist icon Ernesto Che Guevera. Lal described him as Che Guevera of South Asia.
Both, rebels had fought against the imperialistic forces and were the supporters of socialism. Singh's birthday falls on September 28 and Guevera attained martyrdom on October 9 when the US and Bolivian forces caught him in 1967 and killed him.
Bhagat Singh and Che Guevera are alive in the hearts of millions of youth. Singh's photograph and Guevera's picture can be seen on the T-Shirts. The legends are famous in their respective regions.

Guevera fought against the US imperialism and Singh fought against the British imperialism. Both the revolutionaries had a passion for reading. Guevera's writings published in the various platforms fascinated the youth across the globe. Even the people are crazy for getting his tattoos on their body. The soccer legend Diego Maradona has a tattoo of Guevera on his shoulder.
If we talk about Bhagat Singh, his image has travelled across the country, Pakistan and the leftists.
The jail notes of Bhagat Singh and the Bolivian diaries of Che Guevera are famous in the world. Both had the same political views and they were impressed from the Marxist theory. Singh got the political awareness from his family. His father Kishan Singh led the peasant movement in Punjab and his uncle Ajit Singh was also a revolutionary who contributed a lot in the freedom struggle.
Guevera travelled South America on his motorcycle with his friend for nine months. The situation of the South American changed his heart as well as his ideology.
Singh wanted that British could shot him instead of hanging. He said, �You can bound my body, you can shot me but you can't kill my views and ideas.�
Even Guevera had told, �Come on coward, you are just going to shot a man.� Both have left the world but their views and their ideology still prevailing in the country. They both would remain alive in the hearts of people. Imperialist forces just only killed them but failed to suppress their thoughts. They both said the common words before dying and that were �Long Live Revolution.'