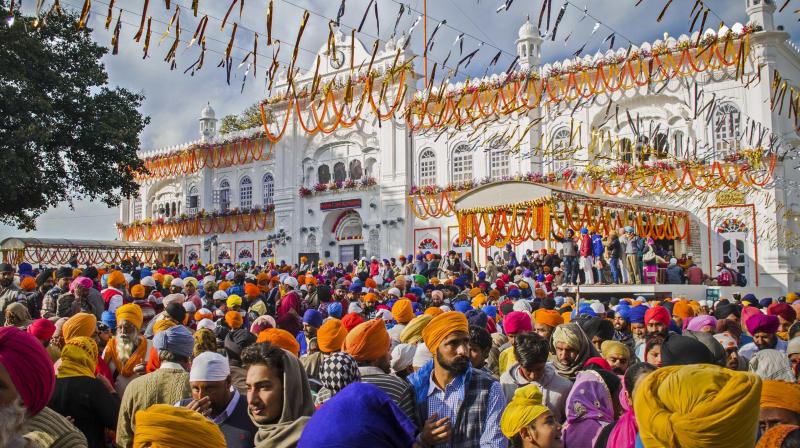 Anandpur Sahib
The word Panthic is unfortunately colloquially used in a political context by sectarian forces to try and erroneously create a divide
The Indian National Congress decided to field me from the Sri Anandpur Sahib parliamentary constituency in the recently concluded Lok Sabha elections.  Sri Anandpur Sahib is steeped in history. 
Takht Sri Keshgarh Sahib, situated in the historic city of Anandpur Sahib, is among the most revered places of worship for the Sikhs. On the day of Baisakhi, April 13, 1699, Guru Gobind Singh initiated his followers into the order of the Khalsa. The Guru requested those present to volunteer their heads to him. When five brave men, now known as the Panj Piare (five beloved ones), came forward to lay down their lives, the Guru instead baptised them with amrit (holy water). The city of Anandpur Sahib began life as Chakk Nanaki, and was founded by Guru Tegh Bahadur in 1665. His son and the tenth Master, Guru Gobind Singh, spent 25 years of his life in this city. 
The constituency is also home to the notable city of Chamkaur Sahib. The Battle of Chamkaur Sahib was fought between the Khalsa Army led by Guru Gobind Singh and the imperial Mughal forces commanded by Wazir Khan in 1704. It is here that Guru Gobind Singh's two elder sons, Sahibzadas -- Ajit Singh and Jujhar Singh-- aged 18 and 14 years old, respectively, attained martyrdom while leading from the front. 
Hindus and Sikhs alike revere the historic shrine of Naina Devi, just 20 kilometers from Anandpur Sahib. Similarly, Khuralgarh Sahib is one of the most prominent places for the Ravidasia community. Situated in Garhshanker, Khuralgarh Sahib is also called Charan Choh Ganga Sri Guru Ravidas ji. The constituency also houses the ancestral village of Shaheed-e-Azam Bhagat Singh — Khatkar Kalan—where a memorial stands in his honour.  The constituency is also the crucible of the mighty Bhakra Nangal dam that Pandit Jawaharlal Nehru described as a temple of modern India.
Into these riveting currents of history and nationalism, I plunged headlong on April 15, 2019, after paying obeisance at the birthplace of the Khalsa. Right from the word go, my opponents started running a malicious and personalised campaign against me. The first attack was that I was an outsider, from Uttar Pradesh, since my surname 'Tewari' is found more in UP than in Punjab, who had just no business of contesting from a Panthic seat. Tewari is as much a common surname in Punjab as Pathak, Awasthi and Shukla. While the word panthic has a pervasive, inclusive and all embracing meaning, it is unfortunately colloquially used in a political context by sectarian forces to try and erroneously divide politics and political constituencies between the Sikhs and non-Sikhs. 
What was conveniently swept aside was that this is Guru Gobind Singh's land who said: "Manas ki jat sabhe eke paihcanbo - recognise all of mankind as a single caste of humanity".
What was also ignored was that my late mother Dr Amrit Kaur Tewari, a respected doctor, was a Jat Sikh and that my father late Dr VN Tewari was a distinguished scholar of Punjabi and a nominated Member of Parliament (Rajya Sabha) who fell to the bullets of terrorists. He was the standard-bearer of Punjab, Punjabi and Punjabiyat and had written a widely quoted book in the late 1960s that had established that the pre-eminent language of Chandigarh is Punjabi. It was buried in the sands of amnesia that I had been a Member of Parliament from Ludhiana earlier and had represented Punjab in the Union Council of Ministers.
The next attack came in the form of an anonymous highly defamatory and insidious video that was circulated on social media platforms like Facebook and WhatsApp. The sinister video alleged that the petrol to burn Sikhs in Delhi in November 1984 had come from my late father's petrol pump. The video went viral in the constituency and across the world.  The fact that my late father was assassinated on April 3, 1984, by terrorists at our residence in Chandigarh a full seven months before the horrendous and macabre orgy of violence that unfolded in New Delhi and the fact that we have never ever owned a petrol pump in three generations did not stand in the way of my opponents spreading lies.  The police registered an FIR and arrested some disseminators of this malevolent video but the authors of it still remain at large.  
With defeat staring my opponents in the face, they launched one final assault a day before polling. They faked my voice and put out another revolting video on social media platforms where I was ostensibly saying odious things about certain communities. I registered yet another FIR against the miscreants, though the producers and disseminators of this video still remain at large at the time of writing. All through this sustained assault, no social media platform took any responsibility for the dissemination of content on their platforms that could have brought my family and me to bodily harm in addition to whatever the political consequences could have been.
All through this Bacchanalia of odium and hate, I went about my campaign connecting with the people by looking deep into their eyes. However, in the eyes of the ordinary men and women, Sikh and non-Sikh alike, all I saw was love, care and compassion as I had seen during my earlier parliamentary campaigns in 2004 and 2009. They embraced me, blessed me as a human being surmounting all prejudices of caste, creed, religion and other forms of bigotry that divide us. No repulsive propaganda seemed to have had any impact on them whatsoever.  
It once again reinforced what a Hindu father and a Jat Sikh mother had taught me and my younger sister in our growing up years in Chandigarh that the essence of Punjab is — Punjab, Punjabi and Punjabiyat. If there is truly a secular state in India, it is Punjab and I am honoured to be among the torchbearers of our composite culture.
Manish Tewari
Member of Parliament, Anandpur Sahib