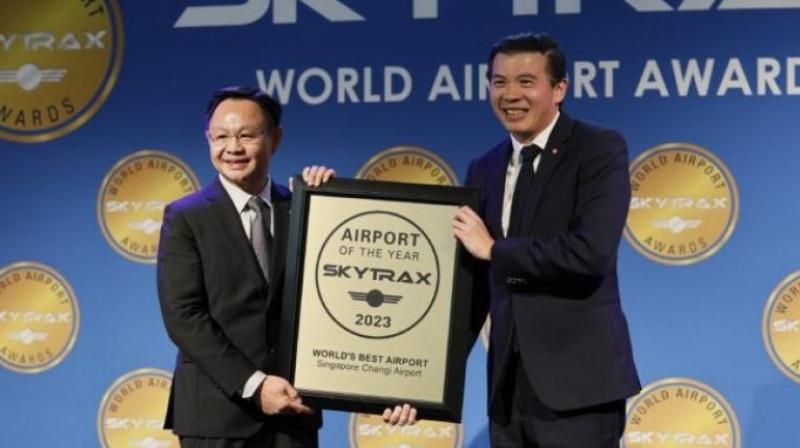 Singapore Regained the Title of World's Best Airport
Changi Airport is honoured to be named World's Best Airport for the 12th time: Lee Seow Hiang
Singapore has regained the title of World's Best Airport. Earlier, Qatar airport had the crown but now Singapore's Changi has taken its spot. In fact, during the Coronavirus pandemic, several restrictions were imposed on travel. At that time, this title was in the name of Qatar for two years, but now Singapore has won this title.
According to the Skytrax World Airport Awards 2023, this Asian airport (Changi Airport, Singapore) has now overtaken Doha's Hamad International Airport to the second position. Tokyo's Haneda Airport, the capital of Japan, is in third place. Also, no US airport has made it to the top 10. On the other hand, Delhi Airport has improved by one place to the 36th position.
Lee Seow Hiang, Chief Executive Officer or Changi Airport Group said, "Changi Airport is honoured to be named World's Best Airport for the 12th time. This recognition is great encouragement to our airport community, who stood firmly together to battle the challenges of Covid-19 over the past two years. We thank them for their dedication to serve Changi's passengers and the perseverance to keep Singapore connected to the world. To our passengers, we are deeply grateful for your vote of confidence. Your continued support encourages us to keep pursuing service excellence as we expand our offerings to redefine the Changi Experience. We look forward to welcoming everyone to Changi Airport as we rediscover the magic of travel again."
In Europe, the Charles de Gaulle Airport in the French capital Paris has been considered the best by moving up to fifth place. The best performer in North America was Seattle's Tacoma International Airport, which rose nine spots to No. 18 from last year's No. 27.
New York's JFK fell three spots to 88th. China's Shenzhen jumped to 31st place, two places above Hong Kong. Melbourne was Australia's top airport in 19th place, up from 26th last year. London's Heathrow Airport dropped nine places to 22nd.
Skytrax also handed over other awards, including regional prizes. Changi Airport won the title of Best Airport in Asia, as well as winning World's Best Airport Dining and World's Best Airport Leisure Amenities.
Meanwhile, 2nd place Hamad International Airport also clinched World's Best Airport Shopping, Best Airport in the Middle East and Cleanest Airport in the Middle East, while 3rd place Tokyo Haneda Airport bagged the overall cleanest airport award. Bahrain International Airport won World's Best Airport Baggage Delivery and Incheon Airport got the title of the best staff and immigration processing airport.
Top-20 Airports in the World......
1. Singapore 'Changi'
2. Doha Hamad
3. Tokyo 'Haneda'
4. Sol Incheon
5. Paris Charles de Gaulle
6. Istanbul
7. Munich
8. Zurich
9. Tokyo Femininity
10. Madrid Barrages
11. Vienna
12. Helsinki-Vantaa
13. Leonardo da Vinci–Fiumicino Airport
14. Copenhagen
15. Kansai
16. Centire Nagoya
17. Dubai
18. Seattle-Tacoma
19. Melbourne
20. Vancouver