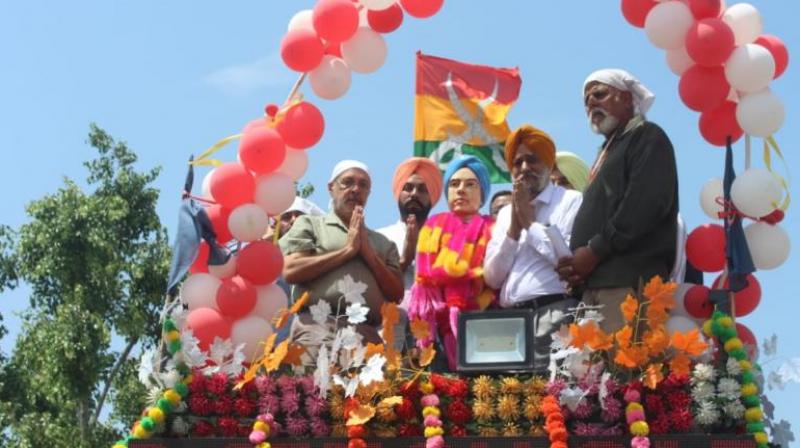 Health Minister Dr. Balbir Singh
Shaheed Kartar Singh Sarabha was the youngest martyr of the country: Dr. Balbir Singh
LUDHIANA: As per the directions of Punjab Chief Minister Bhagwant Mann, Health and Family Welfare Minister Dr. Balbir Singh today took a pledge to make Punjab drug free on the occasion of the birth anniversary of Shaheed Kartar Singh Sarabha.
Presenting flowers of devotion to martyr Kartar Singh at Sarabha village, Ludhiana, the health minister said that eliminating drugs from the state would be the true tribute to the martyrs.
Dr. Balbir Singh said that the Punjab government led by Chief Minister Bhagwant Mann is already making tireless efforts in this direction. Drug addiction is a serious obstacle in realizing the dream of our forefathers who fought bravely for the freedom of the country. He said that the time has come when the war against drugs should be converted into a mass movement to make Punjab drug free.
He said that the Punjab government will open 'Pravartan Kendra' across the state where facilities like treatment, counseling and rehabilitation of drug addicts will be provided and training for various occupations will be ensured so that they can become self-reliant. He further said that apart from this, health committees will be formed which will work to keep vigilance on the signs of drugs in their areas.
Dr. Balbir Singh said that Shaheed Kartar Singh Sarabha was the youngest martyr of the country, who attained martyrdom at the age of 19 years only. He said that the sacrifice given by Shaheed Kartar Singh Sarabha will continue to inspire the youth to serve the country.
He also recalled that our great freedom fighters have made great sacrifices to ensure the betterment of future generations and overall progress of the country and state. He said that efforts should be made to fulfil the dreams of their freedom fighters. He also assured to solve all the issues raised by the local people.
Addressing the gathering, Raikot MLA Hakam Singh Thekedar said that the Punjab government is committed to make the state a 'Rangla Punjab' by eradicating social evils like drugs.
Markfed Chairman Amandeep Singh Mohie invited the youth to conduct an awareness campaign against drugs. Earlier, the cabinet minister also inaugurated the blood donation camp set up in memory of Shaheed Kartar Singh Sarabha by offering floral garlands on the martyr's statue.
On this occasion, the district administration also organized a dedicated walkathon and cycle rally on the birth anniversary of Kartar Singh Sarabha, in which hundreds of students of Shaheed Kartar Singh Sarabha Group of Medical Institute participated.
On this occasion, besides others, District Planning Board chief Sharanpal Singh Makkar, AAP leader Dr. KNS Kang, Ahbab Grewal, Harbhupinder Singh Dharour, Additional Deputy Commissioner Major Amit Sarin, Civil Surgeon Dr. Hitinder Kaur and Colonel (retd) Mandeep Singh Grewal were present.