Vijay Inder Singla
Chandigarh: On the directions of Punjab School Education Minister Vijay Inder Singla, an amount of over Rs 3.27 crore has been released for the renovation of Science Labs, Computer Labs and Libraries of the schools.
Disclosing this, a spokesperson of the school education department said that an amount of Rs 327.42 lakh has been provided for 3638 schools of the state for the said works. The education secretary Krishan Kumar directed to the officers to convert Science Labs, Computer Labs and Libraries into Smart Labs/Libraries so that students could have a better learning environment. For this purpose, Rs 9,000 has been provided for each school.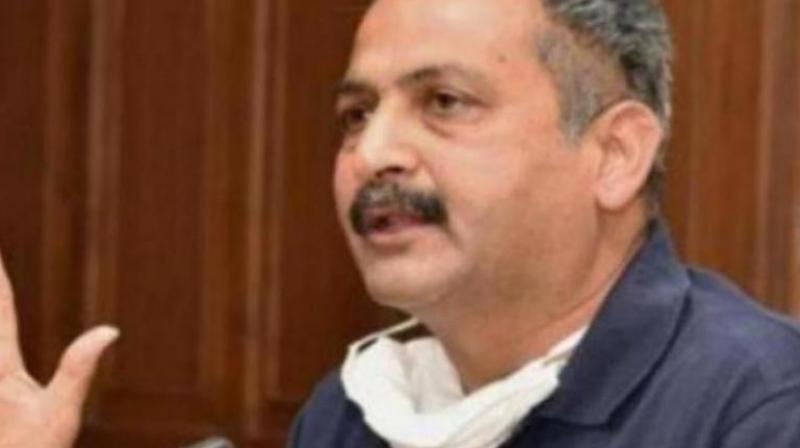 Vijay Inder SinglaAccording to the spokesperson, this amount will be utilized for paint, flex, door mats, window curtains, door curtains, clocks, display boards, newspapers, reading stands, syllabus handler etc to convert science labs, computer labs and libraries in smart labs/libraries. The education department is fully committed to revamp the school infrastructure and the funds have been released in this direction.
According to spokesperson the Rs 20.43 lakh for 227 schools of Amritsar district, Rs 8.10 lakh for 90 schools of Barnala, Rs 18.18 lakh for 202 schools of Bathinda, Rs 7.65 lakh for 85 schools of Faridkot, Rs 7.29 lakh for 81 schools of Fatehgarh Sahib, Rs 13.23 lakh for 147 schools of Fazilka, Rs 11.25 lakh for 125 schools of Ferozepur, Rs 18.63 lakh for 207 schools of Gurdaspur, Rs 24.21 lakh for 269 schools of Hoshiarpur, Rs 24.57 lakh for 273 schools of Jalandhar, Rs 11.88 lakh for 132 schools of Kapurthala and 30.87 lakh for 343 schools of Ludhiana has been released. Likewise Rs 11.79 lakh for 131 schools of Mansa, Rs 15.12 lakh for 168 schools of Moga, Rs 13.77 lakh for 153 schools of Sri Muktsar Sahib, Rs 7.29 lakh for 81 schools of Pathankot, Rs 18.27 lakh for 203 schools of Patiala, Rs 10.26 lakh for 114 schools of Rupnagar, Rs. 9.45 lakh for 105 schools of SBS Nagar, Rs 19.89 lakh for 221 schools of Sangrur, Rs 9.81 lakh for 109 schools of SAS Nagar and Rs 15.48 lakh for 172 schools of Tarn Taran has been released.