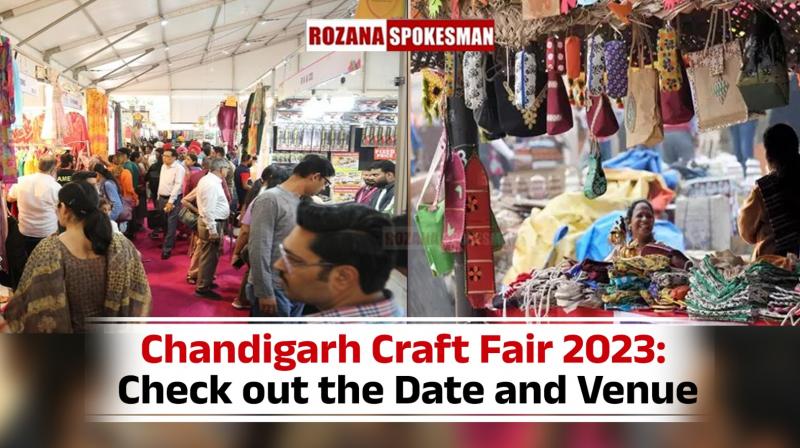 Chandigarh Craft Fair 2023
Chandigarh Craft Fair 2023 Promises a Cultural Extravaganza at Kalagram
Chandigarh Craft Fair 2023 Latest News: The Enchanting city of Chandigarh is gearing up for the much-anticipated Chandigarh Craft Fair, set to enthrall audiences with a fusion of contemporary performances and cultural heritage at Kalagram, Manimajra, from December 1 to December 10, 2023. Presented in collaboration with the North Zone Cultural Centre and the Department of Cultural Affairs, Chandigarh, this year's theme, 'Mera Mati Mera Desh,' will be showcased through a captivating gateway inspired by Nagaland, aligning with the foundation day of the North Eastern state on December 1.
- A Cultural Extravaganza with 'Mera Mati Mera Desh' Theme
In a preparatory meeting, Hari Kallikkat, Secretary Culture, Chandigarh Administration, shared insights, expressing confidence that this edition of the fair promises not only abundant entertainment but also a rich cultural experience for attendees.
- Diverse Showcase of India's Cultural Tapestry
Featuring approximately 1000 folk artists from various states, including renowned performers, and boasting around 200 craft stalls offering exquisite handicrafts, the fair is designed to be a vibrant celebration of India's diverse cultural tapestry.
- Star-Studded Performances and Local Talents
Highlight performances include Lakhwinder Wadali, Salman Ali of Indian Idol fame, Maithili Thakur, Gulrez Akhtar, Maya Upadhyay from Uttarakhand, and Naati king Kuldeep Sharma. The inaugural day will feature a special choreographer performance blending folk and classical artistry, choreographed by the acclaimed Santosh Nair and his team. Fair artists will enchant audiences throughout the day, with evenings reserved for local talents selected by the Chandigarh Sangeet Natak Akademi.
- Free Admission for School Children
Sorabh Arora, Director Culture, Chandigarh Administration, announced free admission for school children until 12 noon, providing an enriching experience that includes cultural programs, quizzes, workshops, and other activities.
- Debut Exhibition of Stone-Carved Musical Instruments
A standout feature of this year's fair is the debut exhibition of 16 giant musical instruments carved in stone, created by the North Zone Cultural Centre, Patiala. The fairgrounds will be adorned with the theme 'Meri Mati Mera Desh,' brought to life by the skilled team led by ambiance artist Anup Giri.
- Folk Art Awards and Exhibitions
Building on last year's tradition, awards dedicated to folk arts will be presented to selected artists on the opening day. These annual accolades, announced by the Hon'ble Governor of Punjab and Administrator Chandigarh, underscore the commitment to recognizing and honoring contributions to folk arts. The North Zone Cultural Centre will host an exhibition portraying rural life, while the Chandigarh Lalit Kala Akademi will organize an exhibition and a photo competition during the fair.
- Culinary Delights at Kalagram
In addition to the entertainment, Kalagram will offer a diverse culinary experience with stalls featuring traditional dishes.
The Chandigarh Craft Fair 2023 promises to be a cultural spectacle, weaving together tradition and contemporary artistry for a memorable experience.
(For More News Apart from Chandigarh Craft Fair 2023 Latest News, Stay Tuned to Rozana Spokesman)