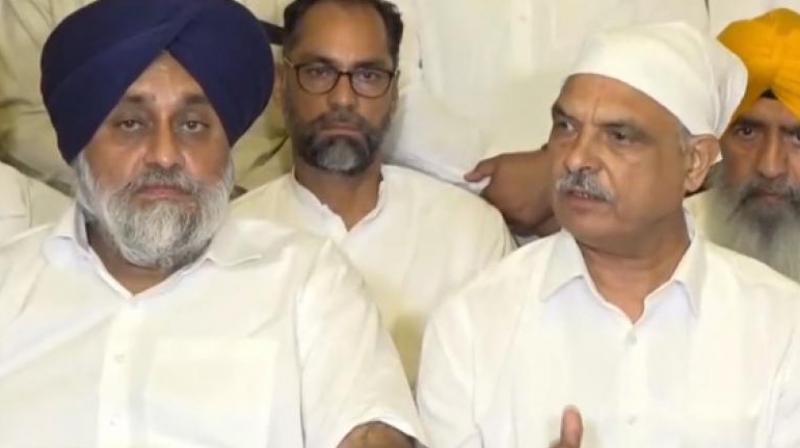 Sukhbir Singh Badal
I thank the top leadership of SAD & BSP for trusting me: Dr. Sukhwinder Sukhi
CHANDIGARH: The Shiromani Akali Dal and BSP alliance has announced SAD Leader Dr. Sukhwinder Sukhi as their candidate for Jalandhar By-Elections. Sukhi is a MLA of Shiromani Akali Dal from Banga Vidhan Sabha Constituency. Notably, Sukhi has been a two-time MLA, winning the 2017 and 2022 assembly elections. 
After being announced as a candidate, Dr. Sukhwinder Sukhi shared the post on social media, "I thank the top leadership of Shiromani Akali Dal and Bahujan Samaj Party for trusting me to carry forward the ideology of alliance as a candidate for Lok Sabha constituency Jalandhar. I thank God. And request the people of Jalandhar to grant me the strength to represent the needs and aspirations of the Jalandhar Lok Sabha".
Earlier, Shiromani Akali Dal (Amritsar) has also announced to contest the by-election. Party president Simranjit Singh Mann has announced Gurjant Singh Kattu as his candidate for the Jalandhar by-election.
It is worth mentioning here that the by-elections for the Jalandhar Lok Sabha seat will be held on May 10 and the results will be announced on May 13. Karamjit Kaur, wife of late Member of Parliament Chaudhary Santokh Singh, has been announced as a candidate by the Congress. The Aam Aadmi Party has fielded Sushil Kumar Rinku, while the Akali Dal-BSP alliance has fielded Dr. Sukhwinder Sukhi as his candidate. BJP has not announced their candidate yet.