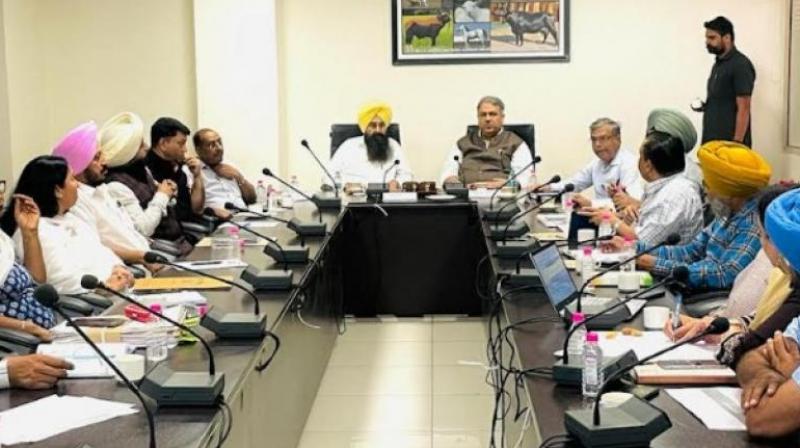 Meeting
Minister instructed the concerned officials to speed up the efforts to promote shrimp farming
CHANDIGARH: With a view to further strengthen the Department of Animal Husbandry, Dairy Development and Fisheries of Punjab and increase its efficiency, Cabinet Minister Gurmeet Singh Khuddian today asked the officials of the department to speed up the recruitment process of Veterinary Officers and Inspectors.
He was presiding over the first meeting to review the functioning of Animal Husbandry, Dairy Development and Fisheries Department. Gurmeet Singh Khuddian instructed the concerned officials to speed up the efforts to promote shrimp farming in south-west Punjab so that the income of the farmers of this region can be increased as the ground water in this region is saline. Water is not suitable for agriculture and along with this problem of beans is also a big issue in this belt.
Officials told the Cabinet Minister that 1,212 acres of land has come under shrimp farming in the state and they assured that they will leave no stone unturned to further increase the area under this subsidiary occupation of agriculture. Asking the officials to work more diligently and to take the department to new heights, the cabinet minister said that the Punjab government led by Chief Minister Bhagwant Mann is committed to the welfare of farmers and the Chief Minister has entrusted him with the responsibility of making agriculture and its allied industries a profitable occupation. Principal Secretary Mr. Vikas Pratap told Gurmeet Singh Khuddian that the process of recruitment of 300 Veterinary Officers and 644 Veterinary Inspectors is going on and recently 317 Veterinary Officers and 148 Veterinary Inspectors have been recruited by the department.