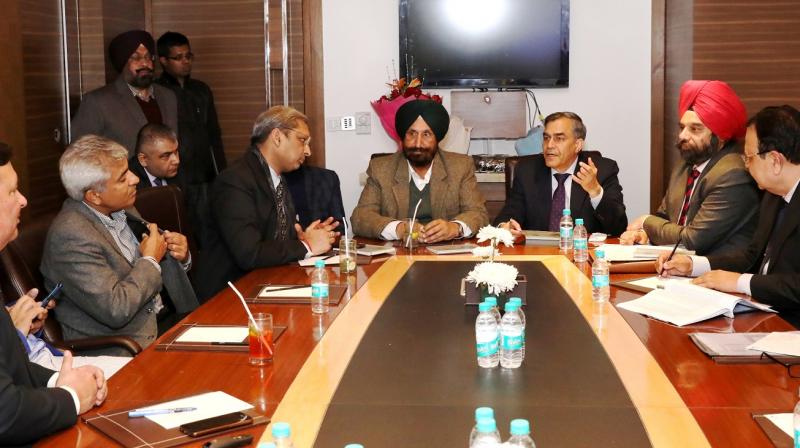 Chandigarh, January 10: The Chairman of NABARD Mr. Harsh Bhanwala today on the eve of visit to Punjab called on the Cooperation Minister, S. Sukhjinder Singh Randhawa and held comprehensive discussions regarding the credit policy of the Cooperation Department and the Punjab State Cooperative Bank and the Punjab State Cooperative Agricultural Development Bank closely connected with it.
During the course of the meeting, the minister apprised Mr. Bhanwala about the decision of the Punjab Cabinet to merge district level cooperative banks with the Punjab State Cooperative Bank. On the occasion, the Managing Director of the Punjab State Cooperative Bank Mr. S.K. Batish presented a detailed report with regard to the merger process as well as the gains set to be accrued to the credit structure of the state.
Expressing satisfaction over the report, Mr. Bhanwala said that whereas on one hand this initiative woulod lead to the strengthening of the credit structure on the other in the aftermath of the merger the bank would emerge as a leading player in the banking sector with top notch administration and the cutting edge technology.
The Chairman further apprised the Cooperation Minister about the parleys held with the RBI regarding certain issues of the bank namely the increasing of credit limit pertaining to housing sector and the trading of the priority sector lending certificates and expressed hope of early decision in this regard. The Chairman also appreciated the new credit schemes such as Micro Finance, Solar Energy and e-Rickshaw outlined to bring diversified look to the credit system of the banks.
The minister directed the officials of the bank to aim for bringing more diversification in the credit mechanism of the bank. Among others present in the meeting included Registrar, Cooperative Societies Mr. Vikas Garg, MD Markfed Mr. Varun Roojam, MD Milkfed Mr. Manjit Singh Brar and MD, Punjab State Agricultural Development Bank Mr. J.K. Jain.