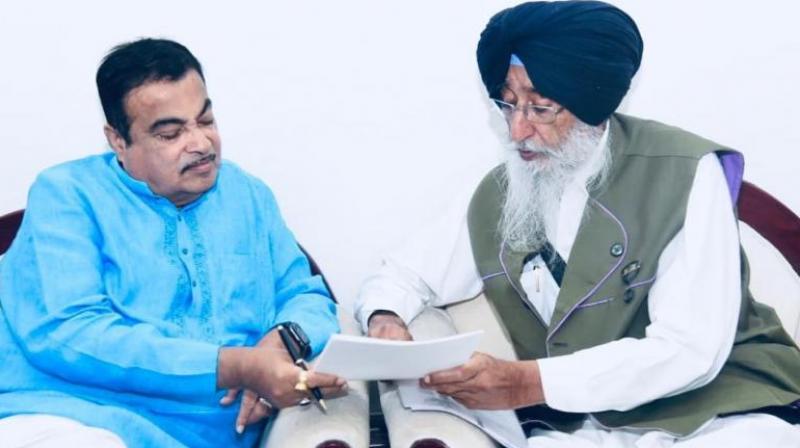 MP Simranjit Mann Meets Union Minister Nitin Gadkari
Union Minister Nitin Gadkari Assured that efforts will be made to solve the issues as soon as possible
SANGRUR: President of Shiromani Akali Dal (Amritsar) and Member of Parliament from Lok Sabha Constituency Sangrur, Simranjit Singh Mann today met the Union Minister for Road Transport and Highways, Nitin Jairam Gadkari and addressed the various issues related to the people and national highways of state and the constituency. MP Mann shared the information in a press statement issued through his Sangrur office.
During the meeting, MP Sangrur discussed with the Union Cabinet Minister various issues related to highways including construction of about 80 link roads under Lok Sabha constituency Sangrur, overbridges to be built at Khanauri, Bhawanigarh and Rayya. MP Mann recommended to Union Minister Gadkari that several link roads leading to various villages of Punjab are in a dilapidated condition, most of which need to be re-constructed and many roads need to be repaired. If these roads are constructed, people will get a lot of relief.
Mann also recommended building a bridge with pillars instead of constructing solid overbridges at Khanauri and Rayya, so that the market shopkeepers on both sides of the bridge would be connected to each other and the business of the shopkeepers would not come to a standstill. Apart from this, Mann also recommended the construction of an overbridge at Bhawanigarh to the Union Minister Nitin Gadkari, keeping in mind the demand of the people of Bhawanigarh.
Notably, Union Minister Nitin Gadkari has assured that efforts will be made to solve the issues as soon as possible, keeping in mind the difficulties of the people of the constituency.