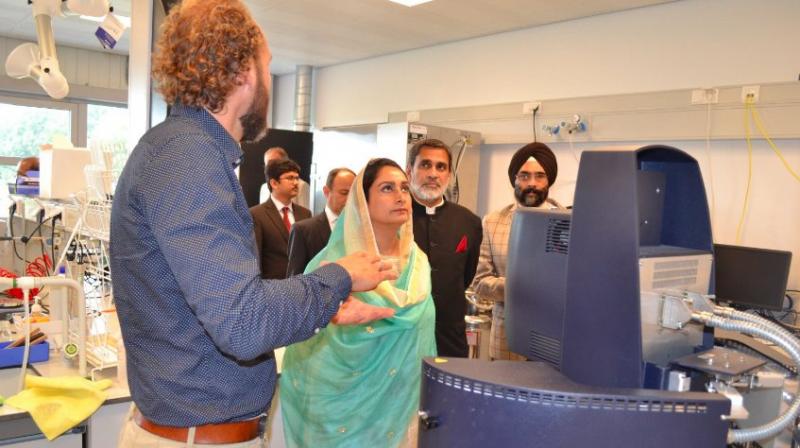 Vegetable farming is set to get a boost in Punjab with a Spanish company setting up a state of the art Rs 350 crore vegetable processing facility in Mohali which will give a ready market to progressive farmers of Mohali and neighbouring districts of the State. Disclosing this here today, Union minister for food processing industry Harsimrat Kaur Badal said she visited the factory premises of Conelodos de Navarra at Mohali and assured the promoters that her ministry will extend all possible support to them besides hand-holding them for their Indian investments. She said with the success of this unit she was confident that more companies from the Navarra region of Spain would establish their processing units in Punjab.
It made me feel proud to interact with Amsterdam's Indian community, which has made a name for itself. Their success stories are quite inspiring. Wishing each one a very bright and prosperous future. pic.twitter.com/872zovPkqI

— Harsimrat Kaur Badal (@HarsimratBadal_) September 6, 2018
Company president and CEO Benito Jimenez briefed the union minister that the new plant would create around five hundred jobs besides benefitting 5,000 farmers directly. He said the company would also focus on potato processing which will open up a new market for potato farmers of Doaba region. The company has already signed a mou with Invest India. Mrs Badal said with the efforts of her ministry value was being added to farm produce be it traditional crops like wheat and rice, milk products, honey, vegetables, fruits or agri produce like 'haldi'. "
It was quite a learning experience to visit the Wageningen Food & Biobased Research of the Netherlands. They have been working on sustainable innovations in healthy food, fresh food chains and biobased products. pic.twitter.com/ELYEEOzWVw

— Harsimrat Kaur Badal (@HarsimratBadal_) September 6, 2018
We have created the necessary awareness about the need to add value to agri produce and even hand held farmers by hiring consultants to enable them to form their own self help groups, clusters or join mega food parks". She said two mega food parks at Fazilka which was dealing in vegetables and Kapurthala which was specializing in maize processing, had become operational. "My ministry is creating necessary infrastructure for food processing industry and also creating forward and backward linkages to facilitate farmers and industrialists both. We are confident Conelodos de Navarra will also benefit from these initiatives", she added.