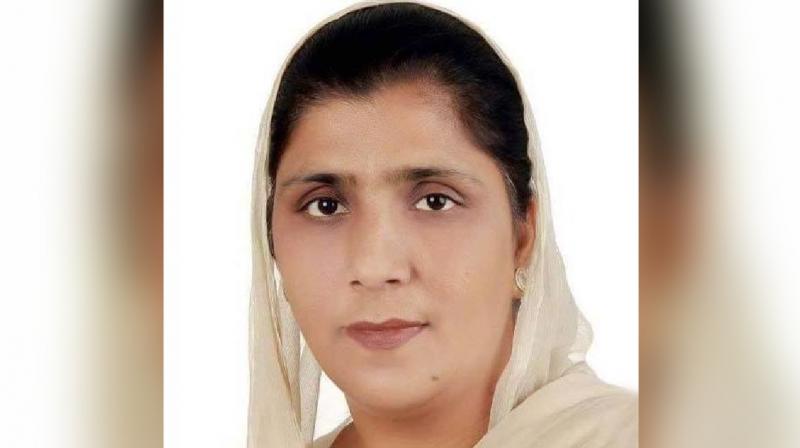 Sarvjit Kaur Manuke
Fight against land mafia will continue: Harpal Singh Cheema
Chandigarh/ Ludhiana, March 5
            Aam Aadmi Party (AAP) leaders on Tuesday staged a protest outside the official residence of Punjab Civil Supplies Minister, Bharat Bhushan Ashu, seeking his dismissal from the state cabinet for his alleged involvement in the multi-crore Ludhiana Grand Manor Homes scam. The protesting leaders were later arrested by the police and taken to police station.
                The leaders included LoP, Harpal Singh Cheema, Deputy LoP, Sarvjit Kaur Manuke, MLA and chief of the Core Committee of the party, Principal Budhram, Kultar Singh Sandhawan, (MLA) Manjit Singh Bilaspur (MLA), Suresh Goel (Senior Leader), Malwa (Zone-1) chief Gurdit Singh Sekhon, district president Daljit Singh Bhola, senior leader, Ahbaab Garewal, Aman Mohi, among others.
On the occasion, Cheema said the government in the state was head over heels in corruption, with its ministers indulging in open loot, thus making mockery of the law of the land. He said his party and the people of Punjab would never take such happenings lying down. He demanded that the Captain government should immediately sack the tainted minister to re-instill a semblance of peoples' faith in the established democratic system. He said the Captain Government had left its counterpart SAD-BJP government far behind in the corruption race.
Deputy LoP Sarvjit Manuke on the occasion said that Ashu had been in the limelight for the wrong reason when it came to corruption. She said his role in the scam became even clearer from the audio clips showing the minister threatening the investigating officers that had gone viral on the social media platforms.
She said that during the recent Vidhan Sabha Budget session, the issue had echoed time and again, which had led to a walk-out by the party MLAs in protest. Even audio clips showing the minister threatening the investigating officers had become viral. This, she said, pointed fingers at the government's non-serious stance on the issue that had rocked the House for days.
Kotkapura MLA Kultar Singh Sandhwan said that notwithstanding the assurance given by CM Captain Amarinder Singh on the floor of the House, nothing concrete had come out of the narrative as he nod neither sacked Ashu or ordered an inquiry into the scam.
Goel accused the ruling Congress government of carrying forward the tradition of corruption like its predecessors – BJP-SAD dispensation without any fear of the law. He demanded that the Captain Amarinder Singh should ask Ashu to resign and book him for promoting corruption.
Others who were present on the accosion were Rajinder Pal Kaur Sheena, Master Hari Singh, Gurjit Singh Gill, Dr Tej Pal Gill,Ravinder Pal Singh Palli, Punit Sahni, Sahil Goel, Sonu Katyal, Harnek Sekhon,  and Nanak Singh.