Captain Amarinder Singh
Capt Amarinder Launches Canal Based Water Supply & Sewage Projects Worth Rs. 197.69 Cr For Amritsar District
CHAWINDA KALAN (AMRITSAR), MARCH  4: Taking forward his vision to provide the best of civic amenities to the people of the state, Punjab Chief Minister Captain Amarinder Singh on Monday laid the foundation stones of three Surface Water Supply Schemes, in addition to a domestic sewage treatment plant, worth a total of Rs. 197.69 Crores, for rural areas of Amritsar district.
Terming Punjab's water situation as precarious, the Chief Minister underlined the responsibility of the state to save water for the coming generations. When the SYL problem started, Punjab had 17 MAF water, which has depleted to 13 MAF in 30 years, he pointed out, adding that the greenhouse effect had reduced the glacier cover, causing even ground water levels to drop. The state currently has 14 lakh tubewells against the 50000 which were estimated to be required after the construction of the Bhakra canal, he noted.
The Chief Minister said the government would take the help of all financial organisations to ensure that canal/river water is supplied to the people for drinking purposes. Captain Amarinder also announced upgradation of the sub-Tehsil of Lopoke and a new degree college for Chogwan. Earlier, launching a Canal Based Surface Water Supply Projects to the tune of Rs. 154.15 Crores, the Chief Minister said the schemes,
with tapping point at Chiwindan Kalan, in block Chogawan on the Upper Bari Doab Canal (UBDC), would help mitigate the problem of for 1.5 Lakh people spread over 112 villages in four blocks in the region. This state-of-the-art project would be executed with financial assistance from the World Bank on a Design, Build Operate and Transfer (DBOT) basis, for which the tenders have already been floated.
On the occasion, the Chief Minister also laid the foundation stone of an Arsenic Removal Project for 102 villages of Amritsar district, involving a cost of of Rs. 21.97 crore, which have been arranged from NITI Aayog after the successful demonstration of a pilot project undertaken by the state government in three villages, based on Nano-material technology developed by IIT Chennai. Of these 102 villages, 63 are of Amritsar district, of which 60 are being commissioned today and the remaining would be commissioned within a month.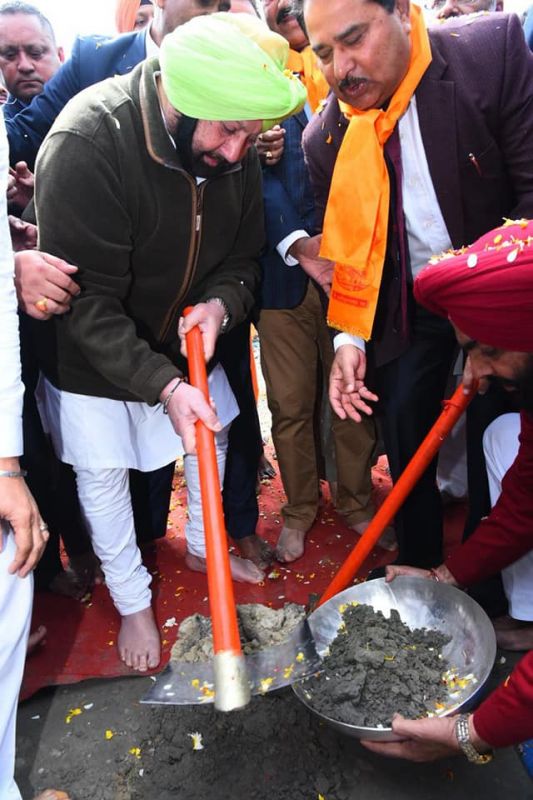 Capt Amarinder Launches Canal Based Water Supply & Sewage Projects
Further, with the aim to counter the high prevalence of contaminates like iron and other heavy metals in groundwater, Captain Amarinder Singh also launched an ultra-modern Water Testing Laboratory at Amritsar at a cost of Rs.6 crore. The work for this project has already been awarded and it would be functional by October 2019. This high-tech laboratory, being set up with technical assistance from Bhabha Atomic Research Centre, Mumbai, would cater to the districts of Amritsar, Tarn Taran,
Kapurthala, Gurdaspur and Pathankot. This would be the second modern laboratory in the state, after SAS Nagar Mohali, to be accredited by the National Board for Accreditation (NABL). Earlier, the Chief Minister also announced relaying of the Budha Theh WSS Scheme and 2.2 MLD capacity STP to treat domestic sewage, at a cost of Rs. 15.57 Crores, for three villages of  Rajya block in Beas region.  It may be recalled that the foundation stone of this project was laid in 2015 by the previous regime, which, however, left this project incomplete. 
In view of the project's importance, the Captain Amarinder Singh Government has reworked it and got it approved from NABARD, and the same would be completed within a year. It may be noted that the Water Supply and Sanitation Department provides potable drinking water to 883 villages through 607 tube-wells and 137 hand pumps-based Water Supply Schemes (WSS). Of these, the ground water of 333 villages is adversely affected with presence of arsenic and is currently not fit for drinking.
Reiterating the state government's commitment to ensure safe drinking water for all, the Chief Minister informed that the Water Supply and Sanitation department has already proposed 3 more Surface Water Projects to Centre, which would cover 259 villages benefitting 2.48 lakh residents with a cost of Rs. 385 crore. The department would also revitalize 127 new/existing water supply schemes to augment water supply with an investment of Rs. 10.87 Crore with assistance from World Bank/ NABARD benefitting 1.81 lakh residents.
Speaking on the occasion, Water Supply and Sanitation Minister Razia Sultana said drinking water would be supplied to the people at a nominal charge of Rs 140 a month, that had been levied to ensure that they realise the importance of conserving water. Unfortunately, people usually had a tendency to waste things that they get free of cost, necessitating the imposition of the nominal charge, she added.
Prominent amongst others who were present during the occasion included Revenue Minister Sukhbinder Singh Sarkaria, MLA Ajnala Harpartap Singh Ajnala, MLA Attari Tarsem Singh DC and MLA Baba Bakala Santokh Singh Bhalaipur. The Chief Minister was accompanied by his Media Advisor Raveen Thukral and Secretary Information & Public Relations Gurkirat Kirpal Singh.