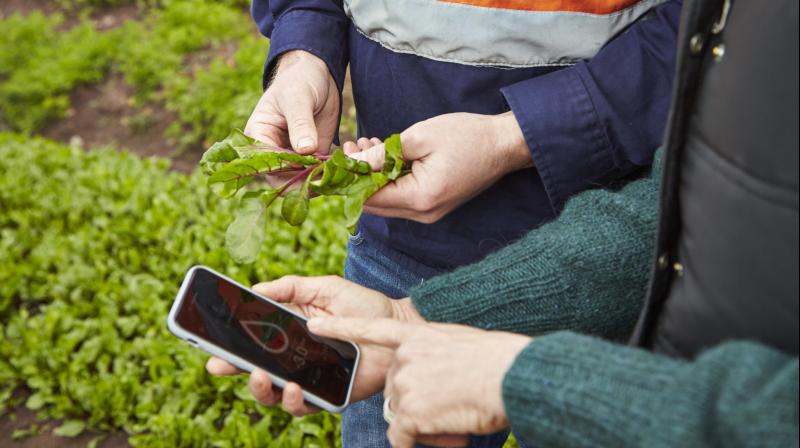 Remotely manage aqua farms by monitoring water and temperature conditions
A smartphone-based artificial intelligence (AI) system may help remotely manage aqua farms by monitoring water and temperature conditions through sensors and automatically taking preventive measures. Demonstrated by a multi-national start-up cFog in Andhra Pradesh, the solar-powered system could revolutionize the decades-old practice of shrimp farming by allowing farmers to manage their ponds using smartphones. Aqua farming is a collective term used for the practice of raising fish, shrimps or prawns in artificial ponds. To ensure maximum yield, levels of dissolved oxygen, ammonia, pH and temperature need to be constantly monitored. At present, farmers collect water samples and take it to nearby laboratories for testing. "These tests are not accurate. The moment we take water samples in a container, the dissolved oxygen level becomes different from that in the pond," said Sriram Pulagham, who owns a shrimp farm in Anakoderu, a village in Andhra Pradesh's West Godavari district.

"As for ammonia, the levels might increase by the time we get the lab test results. It would mean that the shrimps are exposed to high ammonia levels for days. By the time we take any action, it is too late," Pulagham, an engineering graduate, told PTI. The new system costs 75,000 rupees and is equipped with sensors which can constantly monitor the water parameters and alert the farmer through a smartphone app in case of any fluctuations. The device can automate aerators and feeders across multiple ponds, reducing energy bills as well as manual labor required to manage the farm, the company said. "We give farmers the power to remotely monitor how their pond is performing with parameters of dissolved oxygen, pH, ammonia and temperature," said Mukul Kapoor, Vice President of Business Development at cFog, the start-up that created the system. "The farm then becomes completely automated. If oxygen levels go down in the middle of the night, the aerators automatically switch on," said Kapoor.

The data collected by the devices can also be used to train machine learning algorithms that would eventually be able to predict the risks of infections and diseases in the shrimps, based on weather patterns and changing water parameters, he said. The start-up has collaborated with industry experts and research scientists who can help farmers take the right actions based on the conditions of their ponds in real time. The business of aqua farming, according to Kapoor, involves huge investments and operational costs. Although the turnover is huge - ranging from 20 lakh rupees to a crore - depending on the size of the farm, the risk of losing the harvest is very high. Even small human errors and variation in conditions can cause farmers to lose lakhs of rupees. "This makes traditional farmers extremely superstitious and skeptical of new technologies," Abhiram Natarajan, from the Bangalore-based NGO 1M1B, told PTI. The organization works towards solving grass-root level issues of rural areas by connecting them to relevant start-ups, creating new jobs for the locals and helping budding entrepreneurs gain access to larger markets.

"These farmers do not let strangers near their ponds. They even believe that if girls on their periods go near the water, the shrimps will die," Natarajan said. "We have seen that the farmers have been keeping the aerators switched on for up to 20 hours in a day. It's a waste of electricity or fuel they use, and involves huge operational costs," said Kapoor. "In some of our case studies we found that the dissolved oxygen levels were more than adequate and farmers did not have to run aerators for more than 6-7 hours," he said. Natarajan, along with a group of college-level interns, is working to raise awareness among farmers about existing technologies that could help them make their farms 'smarter' and safeguard their investments.
"The problem is to make this technology reach the deep roots of rural India, where creating awareness about new products is not as easy as it is in tier I or tier II cities. First, language is a barrier. Making them understand the technology is another issue," said Kapoor. Through a collaboration with 1M1B, cFog is not only able to deliver their technology to those in need, it has also helped create full-time jobs for educated villagers and internship opportunities for local college students. The team is working closely with farmers to demonstrate the technology. Many of the farmers have already shown interest in installing it on their farms. The start-up expects to start installing the device in aqua farms over the next few months.