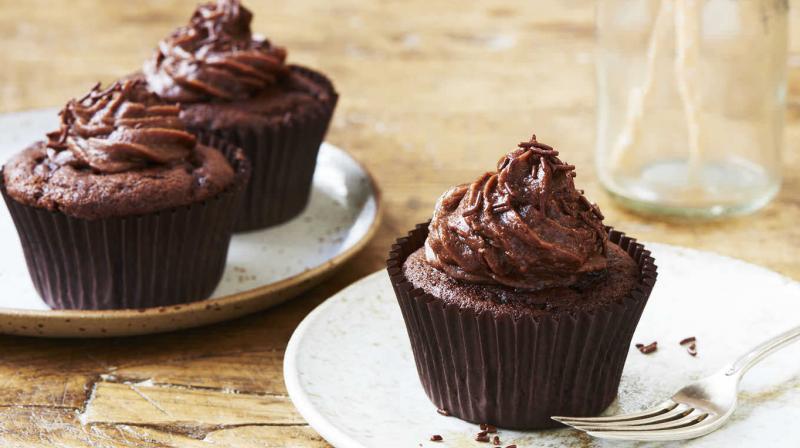 Chocolate Cupcakes
Bake and Decorate Delicious Chocolate Cupcakes for Kids with this Simple Homemade Recipe
CHANDIGARH: Indulging in the joy of baking with children is a delightful way to create memorable moments. Treat your little ones to scrumptious homemade chocolate cupcakes with this easy-to-follow recipe that promises a heavenly taste and a touch of sweetness. Here's a step-by-step guide to make and enjoy these delightful chocolate cupcakes:
Ingredients....
Buttermilk: 255 ml
Sugar: 240 gm
Oil: 120 ml
Vanilla Extract: 1 tsp
Flour: 185 gm
Cocoa Powder: 30 gm
Baking Powder: 1 tsp
Baking Soda: 1/4 tsp
Chocolate Buttercream for cupcake decoration:
Butter: 140 gm
Powdered Sugar: 300 gm
Method:
- Begin by mixing buttermilk, sugar, oil, and vanilla extract in a bowl until the sugar fully dissolves, creating a smooth mixture.
- Next, carefully sift the buttermilk mixture by combining flour, cocoa powder, baking powder, and baking soda in a sieve.
- Thoroughly blend the sifted mixture to create a well-combined cake batter.
- Preheat the oven to 180 degrees Celsius and prepare a cupcake liner tray. Place muffin cups in the tray and pour the cake batter into each.
- Bake the cupcakes in the preheated oven for approximately 30 minutes until they rise and achieve a golden brown color.
- For the delightful chocolate buttercream frosting, start by blending butter in a bowl for about 3 minutes to achieve a soft mixture.
- Gradually add 150 grams of powdered sugar to the butter, blending thoroughly for a smooth texture. Incorporate vanilla extract and two tablespoons of milk into the mixture, blending for an additional 3 minutes.
- To create the chocolate buttercream frosting, mix the remaining powdered sugar and cocoa powder with the rest of the milk until the mixture is smooth and creamy.
- Once the cupcakes are baked and cooled, generously ice them with the prepared chocolate buttercream, making them visually appealing and even more delectable.
With this straightforward recipe, baking chocolate cupcakes at home becomes a delightful experience for both children and adults. So, put on your apron and let the baking fun begin! Enjoy the smiles on the faces of your little ones as they relish these scrumptious chocolate treats.