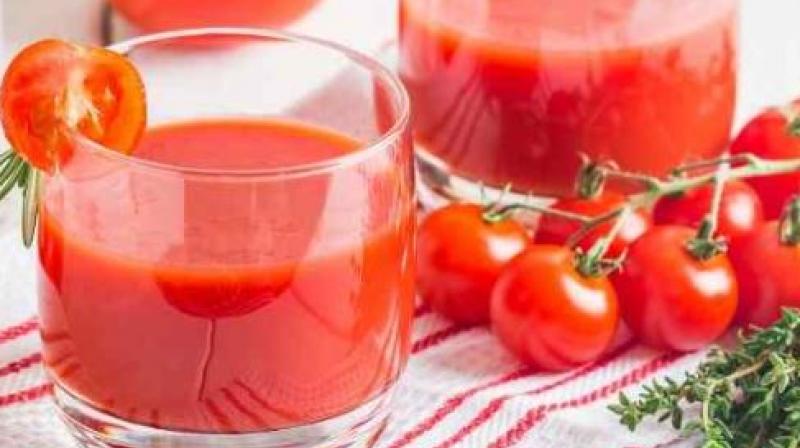 Tomato Juice
One cup of Tomato Juice contains Protein, Fiber, Vitamins & Many More Nutrients
MOHALI: Tomatoes are rich in lycopene which gives many health benefits to human body. Tomato Juice is a popular beverage that provides a wide variety of vitamins, minerals, and essential antioxidants.Tomato juice is widely popular for being very nutritious. Drinking a glass of fresh tomato juice daily will not only make your body hydrated but also lesser the risk of various diseases. 
One cup of Tomato juice contains Protein, Fiber, Vitamins- A, B1, B3. B6, B9, C and K, Potassium, Magnesium, Manganese and Copper. After a heavy workout, a glass of tomato juice will work as a good energy drink.  
Health Benefits of Tomato juice.....
- Tomato juice lowers the risk of heart attack. They contain antioxidants which help reduce heart disease risk factors like high blood pressure, high cholesterol (fat build-up in arteries). 
- If you drink a glass of tomato juice daily without salt, you can significantly reduce the risk many chronic diseases. 
- Tomato juice is beneficial for both women and men. So anyone can consume it even if you don't drink its juice then you must include tomato in your daily diet. 
- Eat raw tomatoes in salads. Use it in vegetables, gravy etc. Be aware that tomato ketchup and sauces contain a lot of sugar. Therefore, its consumption will not be beneficial. 
- Tomatoes are rich in fiber and antioxidants that help protect against cancer and heart attacks.
- Tomato juice contains vitamin K and calcium, which is very useful for bone strengthening. Vitamin K has the ability to activate osteocalcin, which is a major non-collagen protein in bone. Osteocalcin helps mineralise calcium molecules inside the bones.
- Tomato juice is an excellent drink for rapid skin cell repair. It contains high levels of lycopene antioxidant, which works as a natural sunscreen and fights against harmful UV light.
- Tomato juice, mixed in milk or honey might be used as a facial cleansers. You may use tomato juice to get glowing skin. It might clean your face and make it shiny. 
- The health benefits of tomato juice might help reduce the damage done to your body by smoking. 
Way to make fresh, healthy and tasty Tomato Juice....
Homemade tomato juice can be easily prepared within minutes. Cook sliced fresh tomatoes for about 20-30 minutes over medium heat. When cooled, toss the tomatoes into a high-powered blender or food processor and pulse until the desired consistency is reached. Blend the tomato mixture until a drinkable texture is reached. One can add a bit of olive oil and a pinch of black pepper when cooking your tomatoes.