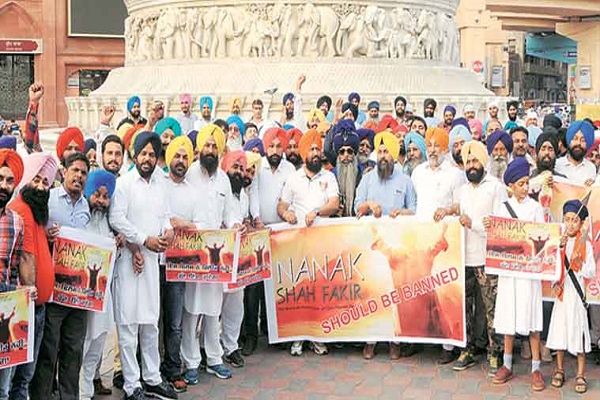 Chandigarh: Punjab government today decided not to intervene on the issue of the controversial movie 'Nanak Shah Fakir' in the wake of the film-makers' reported decision not to release the movie in the state.

Any decision to ban the movie had become unnecessary in view of the film-makers' "decision" against releasing it in Punjab, chief minister Amarinder Singh said in a statement here.

The statement further said the makers of the film, in their petition before the Supreme Court, had clearly stated that "looking at the sensitivity of the issue and the public sentiment involved", they had decided "not to release the film in the state of Punjab for the time being."

Taking cognizance of this submission, the chief minister said no action was required on part of the state government at present.

The government would review the situation and take an appropriate decision if the same becomes necessary in the future, he said, adding that any attempt to vitiate the peaceful atmosphere in the state would be dealt with an iron hand.

Amarinder said he had also taken note of the Akal Takht's ban on the film.

The highest temporal seat of the Sikhs, Akali Takht, had yesterday decided to impose a complete ban on the movie amid protests by several Sikh organisations, who had objected to the portrayal of Guru Nanak, saying any depiction of a Sikh Guru or his family members in living form was against the tenets of the Sikh religion.

Projecting the Guru and his family as human beings was offensive to the principles of Sikhism, they said.

However, the Supreme Court today criticised the apex religious body of the Sikhs, Shiromani Gurdwara Prabandhak Committee (SGPC), for imposing restrictions on the film and cleared the decks for its nationwide release on April 13.

The chief minister was of the view that while authors, film-makers etc., had the creative freedom of expression, such freedom could not be allowed to violate the religious sensitivities of any community, the statement said.

At the same time, he appealed to the protesting Sikh organisations not to resort to violence or cause any damage to life and property to express their resentment against the movie.

In 2015 also, the producers of the film had decided to withdraw the movie from cinema halls across the country and other parts of the world after protests from religious Sikh groups.  PTI