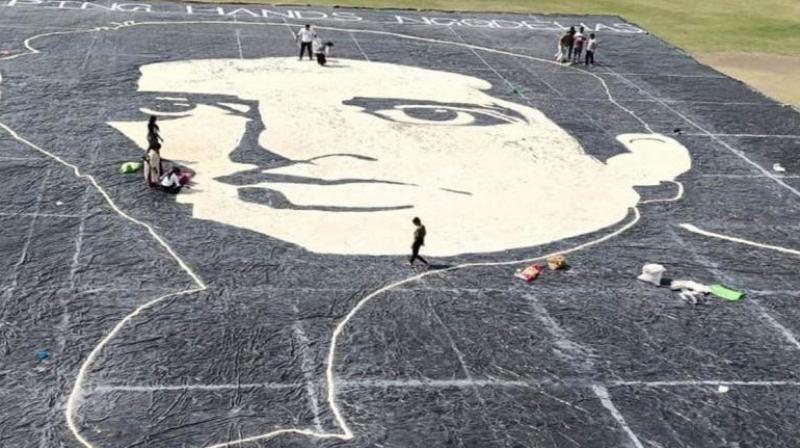 Sonu Sood Portrait
Sonu Sood Praised the efforts of the Organization
MADHYA PRADESH: Actor Sonu Sood had emerged as a 'Real Hero' due to his social work for the welfare of public. He helped and supported several people during the COVID-19 Pandemic period. He is also knows as a Corona warrior. 
The Helping Hands organization of Dewas created a unique record and made a giant portrait of actor Sonu Sood using rice at the Tukoji Rao Pawar Stadium in Dewas. Film actor Sonu Sood joined live from Mumbai to witness the unique initiative on Sunday afternoon and praised the efforts of the organization.
While interacting with the people, he said that during the Corona crisis, we have served the people as a team. Even at present, it is my endeavor that if any needy person reaches out to me or my team, he/she can be adequately helped.
The picture has been made on one acre of land with 2500 kg of rice. Rice was donated by the city residents to make the picture, which will be distributed among the poor families. 
Sonu Sood was very happy to see his picture made with rice. Praising the effort, he said, "Thank you Dewas for appreciating the service work of me and my team. I will soon visit Dewas to meet the organization members and my fans."
Actor Sonu Sood interacted and had discussion with people live for about 30 minutes. He also spoke to the members who made the portraits and appreciated their work. Nahar Darwaja police station in-charge Ramesh Kalathia and other guests attended the program held at the Tukoji Rao Pawar Stadium of the local Dewas. Shubham Vijayvargiya, president of the organization welcomed the guests and briefed actor Sonu Sood about the film. Apart from this, the team members who prepared the portraits were also honored during the programme.