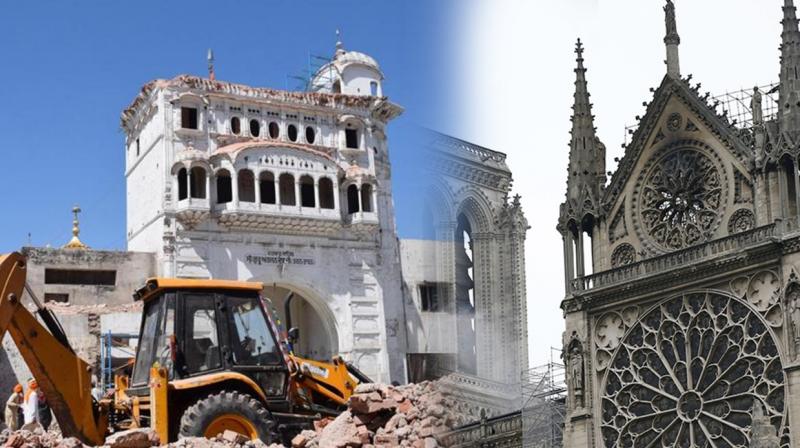 There is a stark difference between two cultures dealing with history
The Notre Dame fire and its aftermath has a lot of lessons for us as a community
Chandigarh 18th April'2019: Monday witnessed a fire in Paris, which the whole world watched with anguish. The said fire had engulfed the 850-year old monument, the Notre Dame Cathedral in Paris. It is the most visited church in the world, and was undergoing massive renovations. The fire took nine hours to be extinguished, and those nine hours were a pain for the French and Catholics all around the globe.
The currently warring opposition parties in France entered a truce, to stay united in this hour of loss. After the fire was extinguished, the French President Emanuel Macron addressed the media in front of the burnt cathedral. He said that a nationwide fundraiser would be organised to rebuild their history, and all of France would rebuild it.
At that moment, all I could see was a French man, grieving in the loss. His effort to control his emotions and his hurt was well evident. And then came the visuals of French gathered at Place Saint Michel, opposite Notre-Dame. Thousands of mourning people gathered there for praying for their loss, and surprisingly silence prevailed. Such deeply pained they were, that a large congregation as that remained silent.
These visuals led me to look back, in our own past. We recently had a deliberate destruction of a 200-year old monument. All what happened was an FIR. The men who did it are roaming freely, and even have the audacity to go to the neighbouring country which has had some pieces of our history intact till now, and ruin them in the name of modernisation too.
When a European country is faced with accidental demolition of history, it leaves behind its petty politics and stands hand-in-hand in the face of grief. And in our land, when faced with intentional demolition of history, our politicians turn a blind eye. The ones in power hold their reigns and say it has nothing to do with them, as they are secular, and the perpetrators too don't take long to shed responsibility.
My question is, even if it is a secular government, is a religious monument that old not a part of cultural heritage of a land? It definitely is. And being the guardians of a land, its history, its present and its future, it is the duty of the current government to safe guard the history in present, for it to be known in the future. The garb of secularism cannot be used to shy away from catching the culprits.
Talking about the perpetrators, they call themselves the political face of the supreme religious body of Sikhs. But it is them who connived with the ruthless destructors of our heritage, and gave them a free hand to do their willing. Here I am not referencing to only one incident of Tarn Taran. If we look at our pasts, and our gurdwaras and other places of religious importance, many more incidents would come to light.
I have still failed to see a streak of pain in any Sikh or Punjabi's eyes about the demolished Darshani Deodhi. No one thinks it is that important to devote their efforts and energies to. The general public does not seem to realise that these lost monuments mean lost heritage and lost history. I could never see a pain similar to the one visible in the French people's eyes!
It is high time we recognise our inability in keeping the physical evidences of our history intact. It is high time we reclaim them while we still can. Otherwise, the following quote by the great Jamaican political leader Marcus Garvey, would not be an untruth. "A people without the knowledge of their past history, origin and culture is like a tree without roots."
-Ravijot Kaur