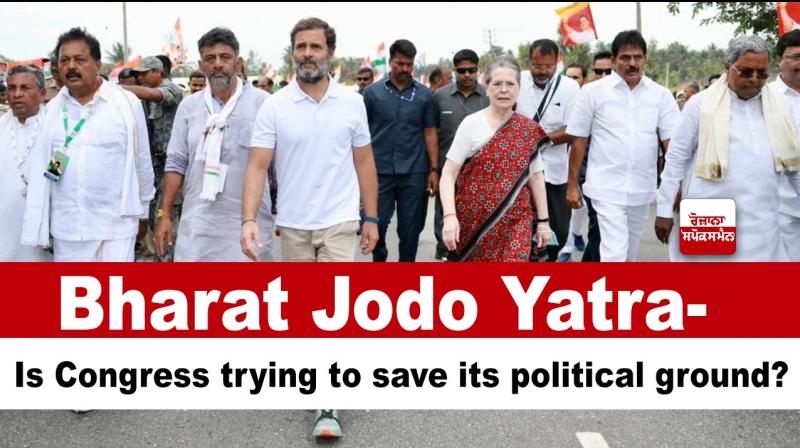 Bharat Jodo Yatra
The Yatra which began from Kanyakumari aims to cover a distance of nearly 3500 km in 150 days
As we are nearing the end of 22 and are getting a bit closer to the 2024 Lok Sabha elections, Congress which is trying to overcome its crisis is also trying hard to save its political ground. With the same only, on September 7, Congress leader Rahul Gandhi announced Bharat Jodo Yatra to unite India and strengthen the Nation.
The Yatra which began from Kanyakumari aims to cover a distance of nearly 3500 km in 150 days. The Yatra which has entered its 86th day will cover 12 states and culminate in Jammu and Kashmir.
What exactly is Bharat Jodo Yatra?
Rahul Gandhi's Yatra which has been an open invitation to all the citizens of the country to walk with former Congress President, Rahul Gandhi aims to address rampant some serious issues which his party has raised time and again. This includes unemployment, inflation, centralization of the political system and most importantly fighting against the alleged politics of hate and division by the current ruling party.
Has Rahul Gandhi's Yatra gained popularity?
If political pundits are to be believed, the ending of 2022, can be one of the best years of Congress, especially for Rahul Gandhi. Since the beginning of the Yatra people from all age groups are coming together to ensure their participation in this historic movement. Every day the photographs circulating on social media platforms related to this Yatra give a glimpse of Rahul Gandhi becoming a popular leader or what some say is the epitome of his grandmother who always kept believing in the mantra of India belongs to us all.
Who all have joined Rahul Gandhi in this inimitable initiative?
During this 86-day-long journey, Rahul Gandhi along with his sister Priyanka Gandhi, many prominent Congress leaders like Harish Rawat and Bollywood, and Sports biggest like Swara Bhaskar, has covered 37 Districts, 7 States. Right now Rahul Gandhi's Yatra has reached Ujjain, Madhya Pradesh and now only 1141 km are remaining.
Why Congress needs this Yatra?
Since the 2019 electoral setback, Congress has left no stone unturned for their image building, and at a time when the country is set to enter into a new year, which we can say will be the campaign year for all the parties, Ex- Congress President's effort of connecting to the grassroot can become a game changer for his party and leaders for their Political  Mission of 2024.